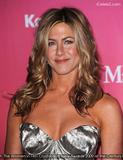 Jennifer Aniston loves her dog very much and whenever her dog is in pain, she will walked out of a room whenever her dog gets injections for his chronic health problems.
A source told the National Enquirer: "Whenever a vet technician arrives at her home to slip Norman an injection, Jennifer breaks down and flees the room until the deed is done."
The source said: "Norman has been Jennifer's constant companion during all her emotional upheavals, but he suffers from aching joints and stiffness. Jennifer doesn't want to put him on medication just yet, so she has opted for doggy spa treatments from a licensed vet technician."
Source