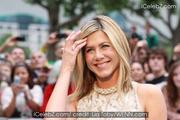 Jennifer Aniston wants to have a child together with her beau, Justin.
A source told OK! magazine, "Ideally, she wants to be pregnant as soon as possible, but if it doesn't happen by next year, they're going to adopt."
"Jen has always been very open to the idea. Plus, it seems these days so many people in her circle are opting to do it that it's got her thinking of it more and more."
"The fact is, she wants to have more than one child and now that she's in her 40s that's becoming less likely," the source explained. "She wants her baby to have at least one sibling."
Source