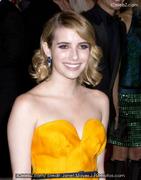 Emma Roberts gushes about Jennifer Aniston. For her, working with Jennifer Aniston in "We're The Millers" is a dream come true for her.
She told HuffPost, "Jennifer Aniston is a genius. I've been such a fan of hers for so long, so to get to work with her was one of those dream come true, check-off-my-list kind of things that I've always wanted".
"I think we all worked together really well and I think there was a good chemistry between us."
Source