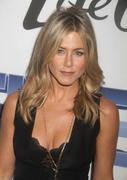 Jennifer Aniston has been going for breast massage to maintain her breast shape.
A friend told British magazine Look, "Her massage therapist insists this technique helps maintain shape and prevents sagging. Jen's been having the massages for 12 weeks now - she started as soon as she got engaged and says they're the best treatment she's ever had."
"Jen wants to be in the best shape of her life for her wedding," the insider continued. "She's making sure her boobs look their best as she knows they're one of Justin's favourite parts of her body."
Source