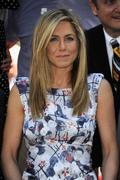 Jennifer Aniston's rep denies that she and her beau Justin has split.
.
The news started when there was a headline on the cover of the new issue of America's Star magazine.
Aniston's rep said, "It's once again just another fabrication to sell magazines and has no relationship to reality."
Source